Learn how to get more followers on instagram with our Instagram Growth Marketing services that position your Online Presence & Monetize your Personal Brand or Business
Our Instagram Growth Service takes your following, credibility & influence to the next level, allowing you to create highly profitable businesses online.
Featured Post
Get a featured shout out on @Millionaire_Mentor for more followers, credibility & greater market influence.
Growth Campaigns
The best way to grow your business or personal brand using shoutouts from popular instagram accounts.
Content Creation
create high-quality, on-brand content that captures attention and keep followers coming back for more.
Get Instagram Growth Strategies that Organically Grow Your Instagram profile!
Contact us today to book your free instagram growth marketing consultation with one of our marketing experts today.
Learn how instagram growth marketing can help you organically grow your instagram following!
Grow your brand & online presence
Growth Campaigns
We create and organize effective ad campaigns for our clients through our Instagram network.
Influencer Marketing
We build your brand & grow your business using the power of our influencer network.
PR Service
We get articles published on major media outlets to feature your brand and raise its popularity and presence.
Content Creation
Our team will create unique and custom content specifically designed to get your audience attention.
Marketing Funnels
Marketing funnels to drive qualified prospects into your sales pipeline.
Podcast Bookings
We can get you booked on many popular business & entrepreneurship podcast.
Brand Management
We get your website ranked on google for top keywords related to your business.
Speaking Gigs
Speaker arraignments at premium in-person events such as TEDx
Success stories

from our clients
Real Estate Investing Expert
Using our growth service Cody was able to scale his account to over a million followers and has generated well over 5 million dollars from instagram leads.
Bashar has built a 20 Million Dollar Amazon FBA Coaching Business utilizing instagram shoutouts with ad spend exceeding $100K a month.
Ecommerce Automation Expert
Helps people build shopify stores and gets all his clients through targeted instagram shoutouts.
Real Estate House Flipping Expert
Dolmar stars on the zombie house flipping show on AE.
YouTube Automation Expert
Caleb was making $20k a month with his consulting agency, then after running promos with millionaire mentor he started making $100k+ a month.
Influencer Marketing Consultant
Helps brands scale through Social Media Lead Generation
GET MORE FOLLOWERS ON INSTAGRAM
Learn how to get more followers on instagram with our Instagram Growth Marketing services that position your Online Presence & Monetize your Personal Brand or Business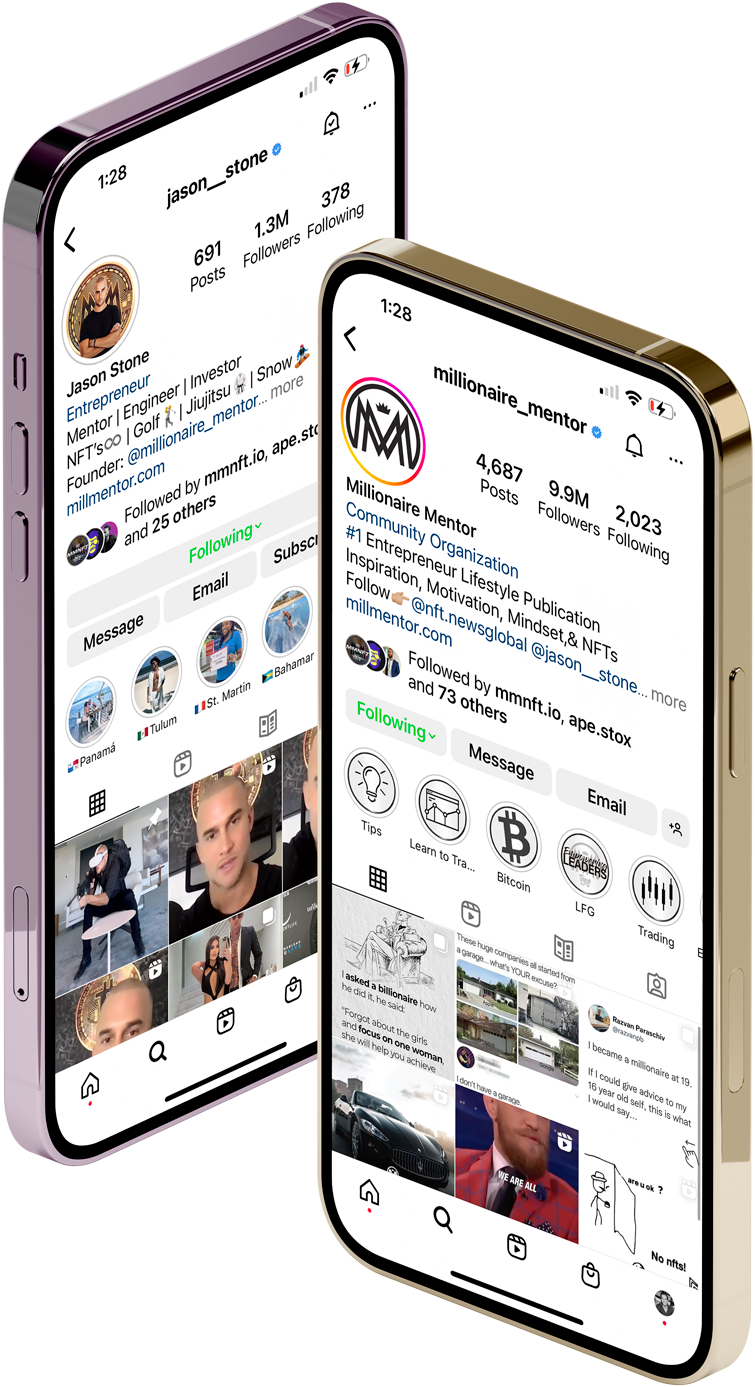 Get

more

followers

on

Instagram
How would you like to learn how to get more followers on Instagram and reach 1 million followers, be verified with a blue check, and expert in your nich, featured in a dozen online tier A press articles, ranked #1 on Google, and have the influence and attention your personal brand, and business deserves? Well, you are in the right place, I can show you how to get more followers on Instagram and WE can make your dreams become a reality! My name is Jason Stone and I'm here to help you position your online presence, learn how to get more followers on Instagram and monetize your personal brand and business the same way I have done over the last 8 years. I currently have one of the top Business pages on Instagram with 10 million followers on Millionaire Mentor, my personal Instagram is 1.3million, and I have the 2nd largest NFT/Crypto page on Instagram page with 1.1 million. I have over a dozen pages, and have made over 20 million dollars from Instagram and I'm here to help you learn how to get more followers on Instagram. If you're looking to scale your personal brand or sell your product or service, Instagram is the #1 place right now to do that! If you're a coach, consultant, mentor or guru, Instagram has been proven to be the best place to sell your high ticket offer! Attention is the new currency, and Instagram is still the best place on social media to garner this attention for pennies on the dollar compared to Facebook ads. That's why it's essential to learn how to get more followers on Instagram. Because you know what they say, the more followers, the more dollars. We offer many services from follower growth campaigns, news and press articles, influencer marketing, funnel building, content creation, and can even help you book speaking gigs and get you on popular business podcasts! We can also have our team help with marketing strategy if you're a little lost, develop the right content strategy, and fire off the right viral marketing campaign to help you get more followers on Instagram Book a call with one of our specialists by clicking below and we look forward to helping you explode your brand and grow your following and impact!